How many of you always do a video call, even if you're just casually calling to check on someone? Ah! We all do it… :p Video Conferences has become the second most common telecommunication that everyone is using tremendously. It has become too popular to be used for virtual conferencing too. However, just in case you missed it. It is still a video call that shows your face to the other person in a 2D camera, so it should not spoil your professional impression on the same, right? Do not worry, we are here at your rescue. Today in this blog, we will tell you how to create a video call setup. Also, some pro makeup and fashion tips for video Conferences as a bonus. Get, set, go!
Tips To Look Good On A Video Call
Looking presentable on a video Conferences are as important as in real life. You should not smell like an unprofessional personality. Moreover, there is human psychology which states that when you dress well, people take you more seriously and stay attentive.
1) Dress Like A Camera Expert
Do not follow the approach that you are working from home so you are allowed to wear anything or everything. There is professional decorum that should be followed everywhere while working. We are not saying to dress to the nines but don't wear PJs too. 
Usually, the camera makes people conscious. Wear something you are comfortable working in; like business casuals. So your focus will be completely on the conference rather than the clothes.
Dress professionally but according to your web camera lens:
Wear neutral or basic colours, not too flashy. Like white, grey, beige, light brown. Avoid dark shades such as black, blue, red, etc.

Your background wall should not have a similar shade to your top, it may give a flat appearance.

Wear simple; avoid patterns. Patterns or other designs could be distracting. 

Avoid jewellery. The camera lens will catch the shine of your jewellery and you could be out of focus. And of course, you will want that.
2) Style Your Hairs Properly
You also want to have the perfect hairstyle that never disturbs your meetings. You know what? It is super easy! Just pin back your hairs so they do come on your forehead or eyes. It could be a high bun or pony, or you can try a braid (if your working life gives you too much time for yourself). 
Just make sure your hair should not come on your face, rather should not bother you at all during the call. It could impact your meeting adversely and may create unwanted distractions.
3) Lighter Makeup, Brighter You
If you want to flaunt your brightening skin on the camera, there is no faster trick than keeping it light and simple. Just use a facial oil or a primer to give a dewy look to your face, apply medium shade lipstick and eyeliner to feature your lips and eyes respectively. 
Moreover, you can use in-build tone-correction filters. Most of the video Conference software offers tone-correction filters to give you an instant look for on-the-spot meetings. 
4) Sit In A Spacious Room
 We are sure you will not like to be seen in a compacted room. FYI, a compacted room can be felt in the camera, which eventually lowers your own morale. You may look too near to the camera which could be discomforting. 
Choose a spacious room where the walls should be at a distance from you. Moreover, the big rooms such as dining or living areas must have natural or better lighting to compliment the setup. So it is better if you take meetings there.
5) Sit Straight & Set The Camera
Many people lose at this stage! After putting so much effort into the above tips, people forget to set the right angle for the camera. 
You must dressed well  and apply soothing makeup. Sit firm and set your camera straight in front of your eyes. It should be at the 180° angle from your eyes.
Most importantly, sit at distance from the screen otherwise the viewers will only have a view of your eyes. 😀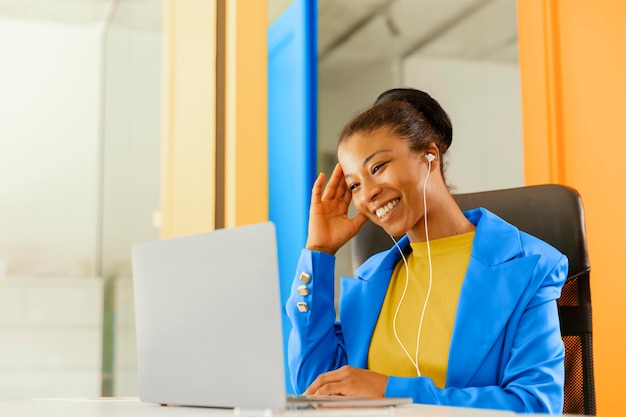 6) Be Confident
Although we have iterated this lots of times in this blog, still we want to highlight it one more time to assure you do not forget this. Indeed your personality matters, but not more than your confidence. It is the first thing that makes you attractive and stunning. 
If you feel there is something hard for you to do, due to so much work pressure or lack of work-life balance. Do not think too much, just wear your confidence and bang on! You will rock it. Do share with us your tips to look good on a video Conferences in the comment section.
In the End
Many people do not switch on their cameras due to a lack of awareness about how to look beautiful on a video Conferences? Therefore, we have gathered all the information and summarised it for you in this blog. You can incorporate these tips before getting ready for the video conference. For more professional beauty tips, keep visiting our blog page.