Our approach to life depends on the mindset that gets developed in childhood. No doubt, people change with life experiences but early age lessons go along with them. If you bring up your child with a positive attitude, they are more likely to be an optimistic person. Therefore, it is important to convey affirmations daily, to boost kids' positivity.
Affirmations are positive statements that help to deal with the situation optimistically. It is observed that these feel-good statements boost the overall positivity of a person, and the same goes for a kid.
Why Affirmations Are Important For Kids?
Kids need to develop a positive mindset at their growing stage so they get trained to face the situation in a better manner even when their parents are not around. 
Every age has its kind of problems and tensions. Still, elementary school level kids' problems could be easier to resolve by telling affirmations daily.
Affirmations work the same for everyone, it is just you need to allow your mind to let these positive statements do their work. If kids will practice this at their growing ages, they could have naturally developed a positive approach for harder problems and failures of life. Therefore, you must pay attention to what kind of mindset your child is developing. 
Ways To Deliver Affirmations Daily
If you go to your child's room every day and say, Good morning dear, is my rockstar ready to shine today? It may sound awkward to your kid as it will become a normal thing which may not help in developing a positive attitude. Moreover, you should check if your kid is overconfident in the urge to be an optimistic person. To avoid such situations, below are some of the ways you can use to boost your kids' positivity. 
1. Use Play Cards
Make affirmations a game for your child. Create play cards and write affirmations on them. Ask your kid to unfold one card every day and follow that affirmation the entire day. 
It will not only make it fun for your kid but also help to practice the positivity of the respective affirmation. 
2. Give Situation-Based Affirmation
Talk to your kid, ask them about their tensions. They may not have adult-like problems but according to their age, their problems must be big for them. Give affirmation according to the situation and let them develop a positive mindset.
3. Use Paper Notes
Many times kids feel unwanted in the house due to a lack of attention. If you are a working parent who is unable to spare much time with your kid, this tip could be really helpful for you.
Paste sticky notes on the fridge or in the room of the kid before he/she awakes. Write an affirmation with a smile emoji to make your kid feel special and wanted. 
This way, your kid will be able to develop a positive attitude. Moreover, you will be able to create a bond so the kid does not feel left out in its own house.
4. Put It In The Tiffin Box
Everyone feels special if something unexpected comes out, so as kids. If they feel good about it, they are more likely to adopt that affirmation. It will also help in developing a bond with your kid even if you are at the distance and unable to spend much time together.
Moreover, when they will flaunt your note in front of their friends, it will be a joyous moment for them and they feel their importance in your life. 
5. Let Them Draw The Affirmations
Ask your kid to make a drawing for each affirmation a day. It will create a picture of the situation where your kid can apply those positive statements. This way, your kid can learn the practical application of the affirmations you give every day. 
Get these drawings framed and hang them in your kid's room. It will work as a reminder in hard times for a longer time in life.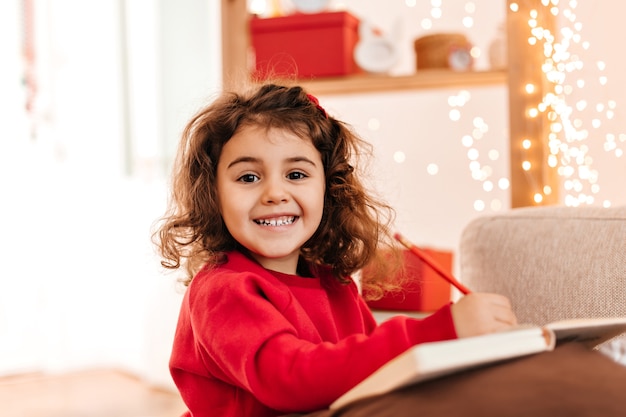 Affirmations For Kids To Develop Positive Mindset
I am heard

I am studying for my well-being

I am being a good person

I think positive

My happiness is up to me

I can solve this question

Good things are on the way

I am blessed

I believe in my parents

I am having a good life

I am proud of myself

I deserve to be happy

I will become a good leader

I am helpful

I have a supporting family

I can face challenges

I know how to face fears

I love my family

I have good friends

My life is beautiful

I am wanted.

I am safe and secured

I can do great things in school

I am a good friend

I work on my flaws every day

I am loved

I have talents

I am alive and happy

I will help others today

I am excited to go to the school.
Wrapping Up At A Good Note
Take care of your kids even more in their growing ages. Here care not only refers to physical health. Their mental health is equally important. If parents work a little harder on kids' mental health in their initial years, they can prevent their kids to suffer from mental disorders like anxiety and depression. 
Use these daily affirmations for kids to make their minds healthy and live happily. For more such blogs and articles, keep following our blog page.