Let's keep all the emotions aside; who doesn't want to have the most beautiful wedding lehenga, but it costs so much just for a single day, it seems a little less worth it if it can not be reused. To let you wear the desired wedding lehenga and not feel bad because of its cost. We are here with the tips to re-use the wedding lehenga.
Reuse Wedding Lehenga
We know you want to wear your wedding lehenga again, but you are not getting the right occasion. Don't worry! We will tell you how to restyle and reuse a wedding lehenga to make it the right choice for all occasions. 
1) Lehenga With A Shirt
It could be the coolest ethnic wear for any occasion. Get a plain silk or brocade shirt in a contrasting shade and wear it with your wedding lehenga. We are sure no one will be able to recognise that you have done the restyling with your wedding dress.
2) Re-Use The Dupatta
You had invested a decent amount in your dupatta. It's time to take out the worth! Drape your wedding dupatta with any simple or less heavy suit/lehenga to give an entirely different look. 
3) Stitch It As Anarkali
If you want to give a fresh look to your wedding dress, get it stitched together as an Anarkali and flaunt it in front of all your relatives who earlier said that buying an expensive wedding lehenga is not worth it!
4) Another Dupatta For Another Look
You can give a different look altogether to your wedding dress by just changing its dupatta. Having a simple dupatta with a heavy lehenga is a combination one can wear in casual get-togethers too. So now you can wear your wedding dress even at a small family gathering.
5) Same Lehenga With Draping Variants
Ah! You can do this too. All you need is to drape your lehenga differently. There are a lot of draping variants available on the web that you can check and drape it suggested.
6) Flaunt It With A Jacket
No, not the leather jacket! Haha… Wear a long net shrug. It could be plain white or in a contrasting shade, whichever suits your lehenga.
7) Follow The Trend With A Peplum Top
Do not leave the fashion trend in the urge of reusing wedding dresses. Peplum tops are trendy these days and look good with a lehenga. You can mix and match them for any celebration at home. 
8) Use It As A Saree
Drape the dupatta as a saree and look different by restyling the old wedding lehenga.
9) Get Another Dress For Your Blouse
You must be having some saree, that needs a heavy blouse to make them perfect for a wedding function. Now there is no need to spend a single penny to buy one. Match it with your wedding blouse, and you are ready to swank your look.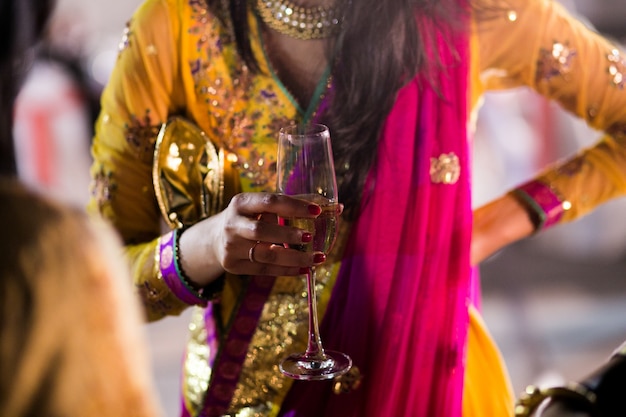 10) Mix It With An Asymmetrical Kurta
Add some symmetry to asymmetrical. These asymmetrical kurtas go well with a lehenga, and if you have a plain kurta that wants to see the big celebrations, please mix it with your wedding lehenga and give them a chance to come out of the wardrobe.
11) Change The Blouse
Earlier, you replaced a simple blouse to give the saree a better look. Similarly, you can now use a simple blouse to have a modest and sober look.
12) Make Blouse/Kurta Out Of Dupatta
If you are done wearing the same dupatta multiple times, you can still re-use it. Wow, amazing! Go to the tailor and ask him to make a blouse or kurta(whatever possible) of your wedding dupatta, and now you have another dress. 
13) Make Something New Out Of Your Lehenga
Wearing that heavy lehenga must be tiring. Why not remake it as a sharara? You will have a new dress at a low cost. Also, the friendship of your wardrobe and wedding lehenga will be delayed too. Further, you will be able to mix it with other tops and blouses. It will be real fun, we are sure!
Alternatively, you can get it stitched as a jumpsuit, maxi dress or dhoti set. Then you will be able to wear them at many more places without feeling overdressed.
Conclusion
So finally you have ample options to reuse your wedding lehenga have a refreshing look at every occasion. Even you can use the same lehnga multiple times without anyone letting know. Isn't amazing? So, what are you waiting for? Share these cool tips to reuse and restyle wedding lehenga with your best friends and help them to reuse their wedding dress too. 
Also, let us know which tip you tried and liked the most and, if you have reused your lehenga in another unique way, share it with us in the comment section. for more fashion and beauty tips keep following and reading our blog .