If your kid is a picky eater or wants to have home-like variety in the lunch box, these delicious Bento Lunch Box Ideas are for you.
You may stay worried whether your kid is having a fresh meal in the school or not. A lot of times packed lunch gets mixed, and the kid may not like to have it, resulting in an empty stomach till noon. Don't worry! We have got a solution for you, Bento Box and some amazing lunch Ideas.
What Is Bento Box?
It's a sectionally divided lunch box, originated in Japan. The word 'Bento' means lunch. Therefore it's a Japanese lunch box concept. Traditional Bento boxes will have rice, fish or meat with cooked vegetables packed in different sections to keep it as fresh as it was made.
Considering this, the concept of the bento box went viral on the web, and people came up with unlimited creative bento box ideas. Out of these uncountable lunch ideas, we have got the top 7 Bento box lunch ideas for you.
Top 7 Bento Box Lunch Ideas
These recipes are not only for kids; adults can treat themselves with these delicious lunch ideas too.
1) Pasta Salad Box
This low-calorie meal is an ideal lunch for your kid as it tastes good and is rich in calcium. Also, it is better to serve it cold. You can add as many veggies you want, such as tomatoes, olives, onion, broccoli to make food more nutritious and healthy. Additionally, you can add choco chips or baked biscuits to finish it on a sweet note.
Instructions To Make Pasta
Boil pasta in salted water for 10-15 minutes 

Mix yoghurt and ranch dressing. Add pasta, bell pepper, and beans.

You can add more veggies of your choice like olives, onions, etc.
2) Cheese Macaroni And The Fruits
An all-time favourite American dish that one can have any time in the day. Just make macaroni with a blend of spices and cheese to taste good. You can increase the protein volume by adding chicken nuggets or fish to the macaroni. Also, pack some fruits your kid likes to make a wholesome lunch meal. 
Instructions To Make Cheese Macaroni
Add macaroni in salted water and boil it for 10-15 minutes

Melt butter in a pan, add flour, salt, and pepper until it becomes smooth.

Pour milk into the flour mixture until it starts bubbling. Add cheese to this mix.

Add macaroni into the cheese sauce and mix it well.
3) Chocolate Waffle Bento Box
If your child is angry with you, we have a delicious bento lunch box idea to make him smile – Chocolaty Waffle Bento Box.
You can easily get a pack of Belgian waffles from the nearest store. Pack the waffles with the chocolate spread, maple syrup, and berries. Your kid will not be able to resist himself to have this tempting lunch meal. You can check the recipe if you want to make waffles at home.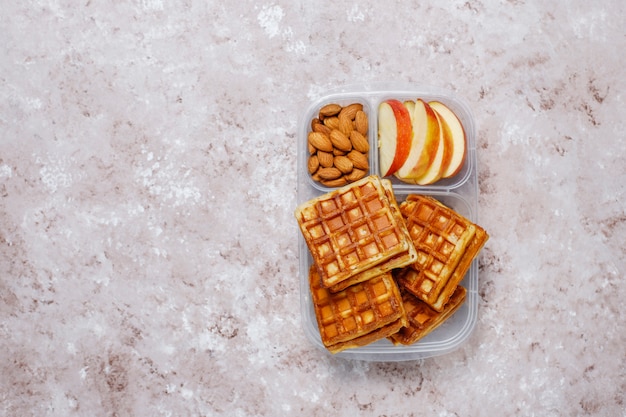 Instructions To Make Waffles
Pre waffle maker

Beat eggs in a bowl until it gets fluffy

Mix flour, milk, vegetable oil, sugar, baking powder, salt, and vanilla until it gets smooth.

Spray non-stick cooking spray in the waffle maker. Add the mixture to the maker. When it turns its colour to brown, it's ready. It will take around 15minutes to get ready.
4) Yoghurt Parfait
A naturally sweet treat that stimulates your kid's mind and helps his brain to stay active all day. Yoghurt Parfait is rich in protein, fibre, natural sugar and healthy fats that will help to run your way all day. Add some carrots, strawberries and walnuts to make it tastier. 
Instructions To Make A Yoghurt Parfait
Add 1 cup yoghurt, ½ cup Granola and 4 Blackberries in a large glass. 

You can add strawberries and other fruits too to make it more fruity 

Add the fruits until the glass gets filled.
5) Chicken Sandwich
The easiest and the most common lunch but with a twist! Do not send your child to school with a mere chicken sandwich. Add some excitement to it with peanut butter, tomato ketchup and extra mayo that he would love. 
Instructions T
o Make A Chicken Sandwich
Boil small pieces of chicken in salted water

Add pepper and salt as per taste

Add some veggies like cauliflower and tomatoes (you can add other veggies too)

Spread it on the bread, and it's ready! 
6) Mini Pizzas
The easiest way to send nutrition to your kid's tummy is by treating him with a pizza. Home-made cheesy pizza filled with a bunch of veggies and tempting sprinkles will make him crave for it next time too. Add tomatoes & carrots for a salad and a chocolate bar for a sweet ending.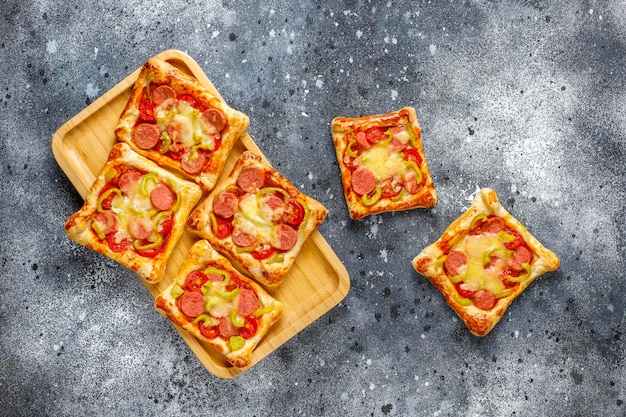 Instructions T
o Make A Mini Pizzas
Put a layer of tomato sauce, then a cheese layer on the pizza base

Sprinkles all veggies on the top

Pour salt, pepper and red chilly on the top

Bake it for 10-15minutes.
7) Falafel Pita Sandwich
A good source of protein and fibres for your kid, this falafel sandwich will be a healthy bento box idea. You can easily prepare it in the morning and pack it with a pretzel stick, blueberries and snap peas. 
Instructions T
o Make Falafel Pita Sandwich
Grab a pack of falafel and pita from the store

Preheat oven to 375 degrees

Spray vegetable oil on it to bake falafel balls for 10minutes

Simultaneously, bake pita in a pan with oil

Add 3 Falafel balls, cucumber, tomatoes and onion to each pita
Summary
These mouth-watering recipes are said to be the best bento box lunches for picky eaters especially. Keep following our blog for more healthy bento box ideas and other food tips.