The biggest celebration of the year is coming near. New Year is everyone's favorite, and we must admit it; we all want to have the best party ever, every time. Let's plan something at home, this time. It won't be possible if you do not scroll down because, in this blog, we have written the best New Year's Eve party ideas, themes, and games for home parties. Let's begin the preparation of the New Year's Eve celebration with the ones we love. 
People make resolutions for the New Year; we will make resolutions for the New Year's eve party. "We will enjoy harder with everyone we love." Yippee! Reading through the blog will be fun, and implementing those party ideas in your celebration will be stunning.
New Year's Eve Home Party Themes
Theme parties sound interesting as everyone dresses alike and creative thoughts pop in the party. Imagine having a Disney-themed party, or Hollywood Marathon, or a Golden Black theme to give it a more elegant look. We have selected some good party themes for you below.
1. Black-Light Glow Party
Fill in some automatic colours at the party with black bulbs. These bulbs are fluorescent lamps; created in a way that filters out the visible light. 
Ask your family and friends to come in light coloured clothes, the black bulb will catch their clothing colours and enlighten the room with fluorescent disco lights. It will feel like a home disco with good music and booze. 
2. Celebrity Party
Though it is a common theme, it is so much fun. Dressing like your favourite celebrity and mimicking them. Also, if you will want, you can make videos and click photographs, upload them on social media and tag your favourite celebrities. If you do not know, celebrities reshare such posts and videos. Who knows if this party will make you famous. 
Chilling with dear ones and getting famous on social media is not a bad deal. 
3. Masks Party
The mask theme is our personal favourite. Nah… we are not talking about medical masks, haha. It is about masquerade masks. Wear fancy, shimmery and glossy masks. Let everyone guess each other and unveil the masks at midnight only.
4. Time-Period Party
Here in this theme, guests need to select one time period and dress accordingly. For example, you may dress as a kid, and let your parents and grandparents' youthfulness come out. Alternatively, you can reverse the game. This New Year's Eve, travel to the future. You dress up like your grandparents and act as you feel you will do as grandparents. 
5. Pyjama Party
An all-time favourite and most comfortable party theme, pull on your pyjamas and jump into bed. Grab some snacks & drinks and watch a movie together or party all night with your favourite songs. Ah… Nothing like it.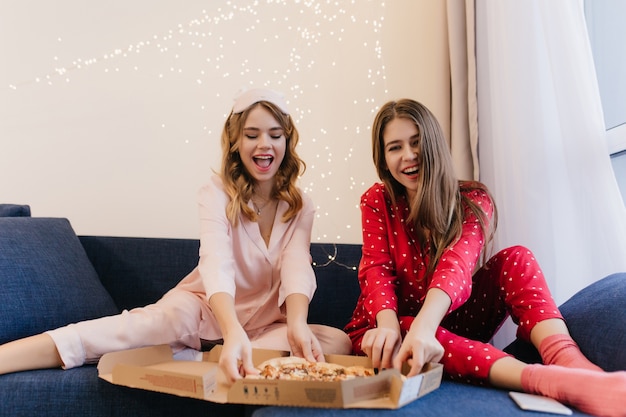 New Year Eve House Party Game Ideas
1. Recall The Year
Games help to initiate interesting conversations. Of course, it is a New Year party. Nobody likes to talk about work and the office, but you have to stop them with your actions. This game is the best motivation to encourage interesting talks and recreating memories. 
In this game, you make chits of the best moments that would have happened this year. For example, the moment you laugh the hardest, the best trip of the year, the funniest moment of the year, etc. This way, you all will have a lot to tell and laugh at.
2. New Year's Resolution Guessing Game
Here in this game, you have to give chits to your guests where they will write their resolution for the year. Now the game is, everyone will take out one chit and read the resolution, then he/she have to guess whose resolution it was. 
This game is best suited if you are in a big group. 
3. Catch The Lie
This game is such an ice breaker. Let's see how much you know your friends and family. Everyone will have to say 1 truth, and 2 lies, but you all have to judge whether the person is lying or not. 
This is really amazing with so much laughter, inside jokes, and lots of memory recalls.
4. Champagne Race
No, we are not talking about bottoms up! There is a twist. You have to fill the champagne in the glass with a teaspoon. The one who will fill it first will be the winner.
Careful, we are sure you will not like pouring your precious champagne on the carpet. 
5. Ribbon Dancing
We all dance with our pairs at every party, want some unexpected pairs on the dance floor? We have a plan for you. Grab a lot of 3/4th ribbons and hold them in the middle. Each guest will have to touch the ribbon from the end. Those who touch the two ends of the same ribbon will be dance partners for the night.
You must try this game! Maybe you get the desired partner without even asking. Haha…
Summary
With these amazing New Year Eve's party themes and games, you can make your party entertaining and memorable. Do share your memories with us in the comment section and let us know what unique you tried for the New Year's party.